SOM Tech provides leadership, advocacy and management across the School of Medicine's technology spectrum, from research to development to data security. We are the School of Medicine's technology advocates—providing healthcare and academic leaders with the support needed to advance today's most innovative digital projects. Our broad technology expertise, deep knowledge of the UCSF ecosystem and human-centered approach give us a unique ability to help take ideas further, faster.
From initial consultation through discovery and our agile development cycles, SOM Tech strives to be a trusted advisor. We see a lot in our role as IT advocates and the data security compliance control point for School of Medicine and we're happy to share.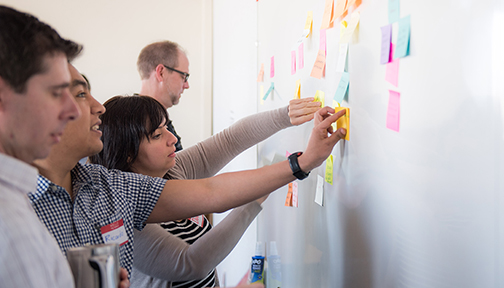 Advocacy
SOM Tech works with multiple departments across the School of Medicine, which gives us a unique perspective on the technology issues common among them. Because we're able to identify the department's biggest common issues, we're able to unify and amplify them effectively.
From sharing best practices to problem-solving to identifying needs for new services, SOM Tech is a fast, reliable resource for addressing shared IT issues.
Single Point of Contact
Most of our work starts with a simple inquiry whether via phone, email or ticket. Advice is always free and we can spend 8-12 hours working with you to better understand what you're looking for and where to direct you. Reach out to us!
Additionally, Salesforce use at UCSF is managed centrally through the Salesforce Program in SOM Tech. For more information, please visit our Salesforce page.
Data Security
SOM Tech is proud to serve as the School of Medicine's data security compliance champion. Whether we're working with business units throughout the school to identify, prioritize and remediate risks or educating the organization on risks, our goal is to keep data safe and secure, without slowing the advancement of technology and medical science.
Discovery
Need a new system or integration? Our work begins with a Discovery process. This typically involves SOM Tech spending 6-8 weeks digging deeper into the context of your project—researching unmet needs with your current users, looking for alternative technologies (e.g. "build, buy or partner") and understanding your goals. The end result is a clear visualization of your roadmap to success—with budgets and timelines included.