Aim
About 90 percent of colorectal cancers and deaths are thought to be preventable. In addition to regular colorectal cancer screenings, exercise and maintaining a healthy weight can reduce patients' risk of colorectal cancer (and recurrence.)
To help patients proactively maintain healthy lifestyles, SOM Tech worked with the UCSF clinical team to create a website that provides colorectal cancer patients with educational materials and expert recommendations. SUCCEED also offers healthy eating tips, recipes, and allows users to set dietary goals and track their progress.
SOM Tech built the site using Drupal and Salesforce, allowing UCSF clinical teams to manage and update content easily as recommendations evolve over time.
Approach
SOM Tech's smart product management system and lean development process allowed us to gather input from users and stakeholders to create a welcoming, patient-centered site with user-friendly functionality designed to improve outcomes. 

Our approach included:
Conducting user interviews based on initial wireframes
Incorporating patient advocate feedback into website updates and additions
Incorporating patient-centered language
Designing clear goal-setting functionality around recommendations
Designing tracking and progress functionality
Integrating Twilio messaging for a 12 week motivational messaging program
Partner
Lead author Erin L. Van Blarigan, ScD, assistant professor in the UCSF departments of epidemiology and biostatistics, and urology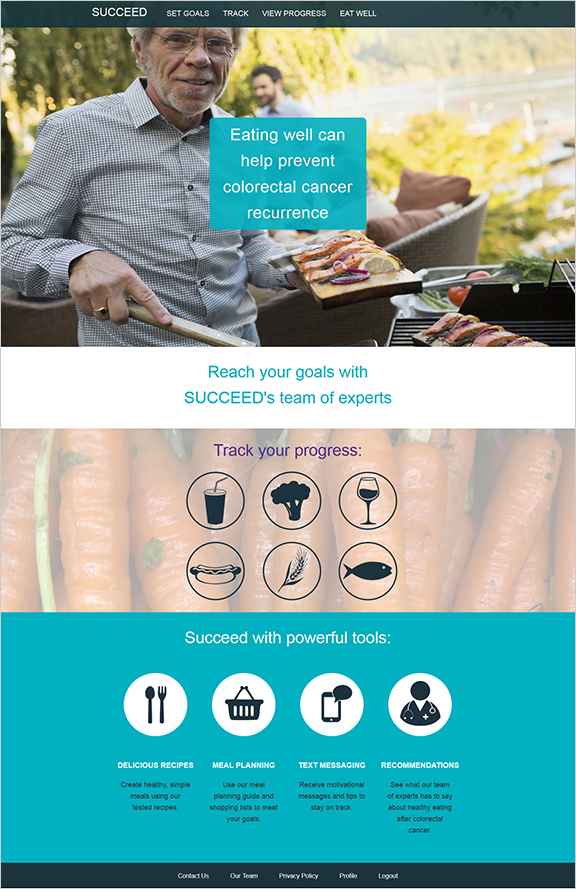 ---
Solutions
Electronic tools that contain patient data must be HIPAA compliant.
The complexity of HIPAA can be a major drawback for clinicians interested in using electronic data systems. As specialists in developing applications to protect patient data, SOM Tech understands the technical constraints of building HIPAA-compliant applications as well as accessing patient data from existing electronic records and lab databases. 
Patients won't interact with overly complex solutions.
So SUCCEED's user-friendly front- and back-end is essential.
We walked Erin through the available technologies before deciding on Drupal and Salesforce. These technologies are HIPAA-compliant and user-friendly, allowing clinicians and patients to share data safely and securely.
More Information
The clinical study is ongoing and has already shown positive results. UCSF clinicians are now better able to help patients proactively maintain healthy lifestyles—and make a real difference in preventing the recurrence of colorectal cancer. Better yet, SUCCEED provides UCSF clinicians with an accurate, always-on way to monitor patient progress and engage when needed.